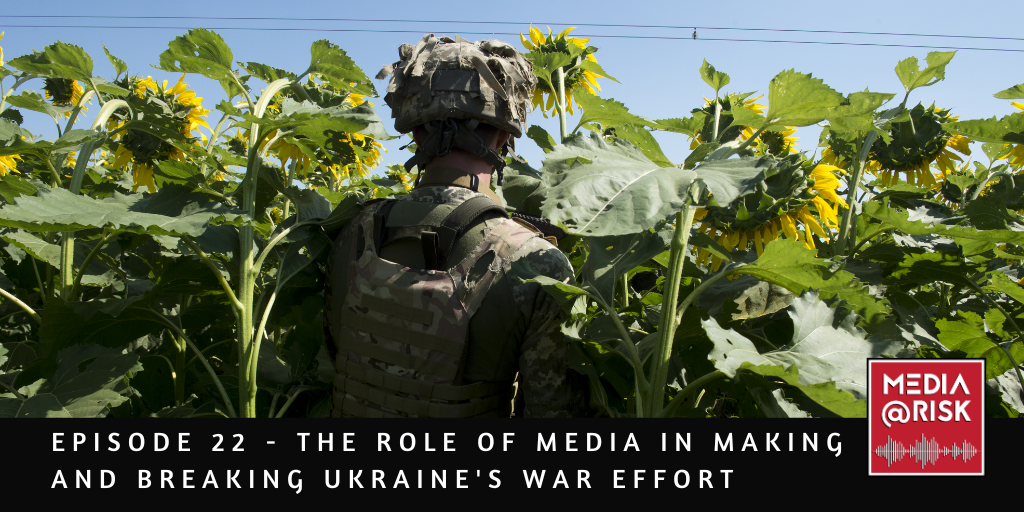 Over a year into Russia's full-scale invasion of Ukraine, how are Ukrainian journalism scholars and media makers thinking about the conflict, and where do they see it going next? Annenberg student and Center for Media at Risk steering committee member Liz Hallgren sits down with the Center's visiting scholars, Yevhen Fedchenko, Olena Lysenko and Dariya Orlova to unpack the state of play. Keeping a clear-eyed emphasis on the decade of conflict that led to this tipping point, Fedchenko, Lysenko and Orlova address the pivotal role of media – both in Ukraine and abroad – in the making and breaking of Ukraine's war effort, including how Ukrainian journalists have managed tensions with their Western counterparts and what changing narratives around the war say about Russia's grip on the information environment.
Credits
Liz Hallgren is a PhD student at the Annenberg School for Communication and a member of the Center for Media at Risk Steering Committee. She studies the intersection of collective memory and national identity as it plays out in (and is enabled by) the news media. She is especially interested in the linkages between journalism and culture, and what these linkages mean for political subjectivity, the public sphere, and democracy globally.
Yevhen Fedchenko is the co-founder and Chief Editor at StopFake.org, a fact-checking website and leading hub on Russian disinformation. He is also the Director of the Mohyla School of Journalism at National University of Kyiv-Mohyla Academy in Ukraine. A hybrid scholar at the Annenberg School for Communication's Center for Media at Risk, Fedchenko was a Fulbright Visiting Professor at USC's Annenberg School for Communication and Journalism. He is a prolific commentator on Ukrainian politics, media literacy and disinformation, which can be found in major outlets including the New York Times.
Olena Lysenko is a documentary filmmaker, producer, fixer and freelance journalist from Ukraine. This year, she is also a visiting practitioner with the Center for Media at Risk at the Annenberg School for Communication. Just this year, her short film, I Never Had Dreams of My Son, received the Special Jury Recognition Award for Best Documentary Short at the 2022 New Orleans Film Festival. In 2016, she received her PhD in Law from Taras Shevchenko National University of Kyiv.
Dariya Orlova is a media researcher and Senior Lecturer at the Mohyla School of Journalism, National University of Kyiv-Mohyla Academy. Dariya studies the transformation of Ukrainian media and journalism, journalists' professional identity in post-Euromaidan Ukraine and media use amongst Ukrainian border populations. Prior to her academic career, Orlova worked as a journalist for the Kyiv Post and served as editor of the European Journalism Observatory in Ukraine. This year, she is a visiting scholar at the Center for Media at Risk at the Annenberg School for Communication. Dariya will also be teaching a graduate class at Annenberg next spring, entitled Media and Journalism in Central and Eastern Europe: Post-Communist Transition and New Directions.
This episode was produced by Liz Hallgren and edited by Jasmine Erdener.
Image Credit: J.T. Blatty, Hranitne, Donetsk region. September 8, 2021.
A Ukrainian soldier walks into the sunflowers fields towards the site of a recent artillery attack by Russian insurgents (three 122mm rounds). Despite the threat of mines and artillery shelling, farmers of the lands in the Donbas often have no choice but to continue harvesting their fields and coexist alongside the soldiers defending the frontline of the conflict. The soldier in this photograph died while defending Ukraine during the Russian invasion.
Music Credits:
Yousef Kekhia – Al Rabta
ONUKA – TY
Odyn and Kanoe – Yellow River
Khrystyna Soloviy – Liubyi Druh
Epolets – Every New Day
Transcript
Liz Hallgren: Welcome to Media at Risk, a podcast from the Center for Media at Risk at the Annenberg School for Communication at the University of Pennsylvania. My name is Liz Hallgren and I'm a doctoral student at the school and a member of the Center's Steering Committee.
Today's episode focuses on the current conflict in Ukraine, both as it's playing out today and the events that led to it. I'm pleased to introduce our guests, this year's Center for Media at Risk visiting scholars and practitioners who are experts in Ukraine and the region with specialties across journalism, film, mis and disinformation, and more.
First is Yevhen Fedchenko, who is the co-founder and chief editor at stopfake.org, a fact-checking website and leading hub on Russian disinformation. He is also the director of the Mohyla School of Journalism at the National University of Kyiv-Mohyla Academy in Ukraine.
Next we have Olena Lysenko, who is a documentary filmmaker, producer, fixer, and freelance journalist from Ukraine. This year she's also a visiting practitioner with the Center for Media at Risk. Just this year, her short film, I Never Had Dreams of My Son, received the Special Jury Recognition award for Best Documentary Short at the 2022 New Orleans Film Festival.
And finally, Dariya Orlova is a media researcher and Senior Lecturer at the Mohyla School of Journalism, National University of Kyiv-Mohyla Academy. Dariya studies the transformation of Ukrainian media and journalism, journalists' professional identity in post-Euromaidan Ukraine, and media use amongst the Ukrainian border populations. Thank you all so much for being here today, and welcome.
Yevhen Fedchenko: Thanks for inviting us.
Olena Lysenko: Thank you for having us.
Dariya Orlova: Great to be here.
LH: I'd like to start today by thinking about where we are now. The full scale invasion of Ukraine by Russia happened in February 2022, and now here we are in May of 2023. I'd like to start by getting your thoughts on where we are now, a year after this important milestone in the conflict.
DO: It's important to stress that the war has not been happening for the last year, but rather for the last nine years. But certainly the full scale invasion changed a lot and impacted many more people in Ukraine in much more harsh way. So if you are asking, "Where are we now?" The simple answer would be that we are still at war, unfortunately. So even though it might be less visible on television or in other media, the scale of military action is really high, and the death toll is extremely high for Ukrainians, both for the army, but also for the civilians.
OL: As a documentary filmmaker, I'm actually thinking about this year's Sundance film Festival that took place in January 2022. One of its competitions included the experimental Ukrainian documentary Iron Butterflies directed by Roman Liubyi. This film is about the events in 2014 when Malaysia Airlines flight MH17, which was coming from Netherlands to Malaysia, was shot down by Russian forces over eastern Ukraine, killing around 300 civilians. At that time, people in Ukraine hoped that if the world did not react strongly enough to the annexation of Crimea, the Russian aggression in east of Ukraine. And if the world didn't feel pity for Ukrainians, the world at least would react to the deaths of innocent people, citizens from around the world. But it unfortunately didn't happen, and that reaction on Russian aggression wasn't strong enough.
Together with Iron Butterflies there was another Ukrainian documentary in the same competition in Sundance. It was called 20 Days in Mariupol by Mstyslav Chernov, the Ukrainian journalist who works with Associated Press. He captured extremely brutal and horrifying war crimes that Russia was committing in Mariupol. It's horrifying. It featured multiple deaths of small children. These both films were together in the program. For me it's a sort of a metaphor of where we are now. If the world didn't pay enough attention to the Iron Butterflies, then 20 days in Mariupol happen.
YF: We marked the first anniversary of the full scale invasion recently, but actually the war started many years ago. Also my organization is using tools of fact checking actually to debunk disinformation. This is an important part of our daily activities because we understand the huge role which disinformation played leading to this full scale invasion, what role disinformation is playing on the occupied territories, and how disinformation is impacting hearts and minds of people in Ukraine and also outside of Ukraine. So for us it's important to follow this and to understand if Ukraine is still on the communicational agenda around the world, what media are covering in Ukraine, and what actually people think around the world about this war.
LH: You all touched on something that I was going to ask about next, which is what might be eclipsed by thinking about the current situation in Ukraine as the one year anniversary of the full-scale invasion? In other words, as you all mentioned, this is a conflict that has in fact been going on for nearly a decade, and certainly with tensions going back even before that. I'm wondering if you could speak to what we gain or lose by thinking about the war in terms of the anniversary, the one year anniversary, which obviously there's been so much discussion about.
DO: Well certainly this employment of anniversary framework reveals or reflects rather media logics, or the way media work with such topics. We can criticize that. We can see flaws in this approach, and certainly there are many. But on the other hand, in this particular situation, I think that we are trying to be pragmatic as Ukrainians. So any attention is good, even if it's within the framework of anniversary that can be criticized. I would just reiterate that it is important to not forget about what's happening between anniversaries, between big dates. I understand that sometimes media and journalists also struggle how they can bring attention to those topics, because the attention of public is limited certainly.
I would also encourage journalists to think both in terms of media logic that is sometimes required from them, but also try to be maybe brave, sometimes braver than expected from them in the routine work, and highlight and display the things that are happening in such places like Ukraine now.
LH: Dariya, you talked about media logic and that's a really good transition to thinking about what's working and what's not working in terms of journalism in and around Ukraine. Where has Western journalism gotten it right? And where has it fallen short in terms of its coverage of the Ukraine conflict?
DO: There is so much content about Ukraine, and very often there are great pieces, great examples of in-depth journalism, investigative journalism; like, for instance, investigations of the New York Times or Wall Street Journal about the war crimes in Bucha and in other places in the Kyiv region. They manage to use the resources that they have, which are very often lacking for Ukrainian media, and do a lot of great reporting. At least that's my impression based on my consumption of news, that there are many more angles compared to, let's say, 2014. So there is more interest in Ukrainian culture, more interest in different groups and communities in Ukraine. It's not as one-sided, so it's not only about this geopolitical level. I think that's also something that has to be welcomed, this change or shift of frames from these big geopolitical games to actual understanding and actual producing knowledge about Ukraine, Ukrainian society, in its complexity.
YF: I would totally agree with Dariya, because 2022 became kind of a turning point for journalism. Previously there were a lot of uncertainty, as she said, and a lot of doubts. But after 2022, I was speaking to a lot of European journalists, for example, and they said for them that was complete turning point. Because after they've been to Bucha and saw with their own eyes the crimes committed by Russia, for them it was absolutely clear question where they are in that conflict. So it was not anymore about this double sadism of this, like, yes, Russia is bad, but probably Ukraine is doing something wrong and they should be both taken with suspicious the actions are. So after 2022 it became absolutely kind of a watershed moment for most of the journalists, but not for all. It's interesting how actually journalism is evolving with this war.
OL: I agree with Yevhen and Dariya. I remember the early days of full scale invasion, the first months of 2022 when there were all these opinion pieces all of a sudden in American media. At the same time when they published all those horrible photos from liberated Kyiv region, you can see these opinion pieces by so-called experts from these international think tanks saying that we need reconciliation, there is no need of sending weapons to Ukraine because it won't change anything. And for me it felt like gaslighting because at that moment Russia is the aggressor. Russia doesn't want to commit to peace talks. They just need to leave our territory and everything will be fine then. Reconciliation is possible only after the justice is done.
LH: I want to think now a little bit too, we've been highlighting Western journalism and how Western journalism has gotten this conflict right or wrong in certain ways. But I'd also like to think about how journalism in Ukraine has changed since the full-scale invasion began, and how you've seen it change over the last decade. How are Ukrainian journalists and newsrooms doing now, and what the state of play is in journalism in Ukraine broadly?
DO: Well, certainly Ukrainian media and journalists have been affected a lot. There is some statistics, some data on the number of newsrooms that had to basically stop their operations or relocate to other regions; these are many dozens of newsrooms of media. And of course, first of all, you have to understand that the economy is in extremely poor shape in Ukraine right now for quite understandable reasons, so that also means that the media market has suffered a lot. There is definitely a lot of restructuring of the media market, and we will see how it develops further. We have to wait a bit to see that.
Certainly Ukrainian media and journalists have been suffering from the lack of resources; not only financial resources, but also human resources. I've been interviewing some journalists recently and editors, and I've heard from many editors that some of the male journalists joined the army, some female journalists left the country. Many journalists feel significant psychological pressure. They've been working really hard for the last year, so some of them decided that they can no longer continue doing that.
On the other hand, we can also see some developments happening. For instance, many investigative journalists started investigating war crimes. There is this whole group of journalists and outlets that are busy documenting war crimes, trying to investigate war crimes. That could bring some important results for Ukraine. But in general, I would say that the situation is definitely very difficult for Ukrainian media and journalists.
YF: I actually can second that view describing how my team is working. It's really very difficult from all points of view, including the people who've been fighting with disinformation for the last nine years. They have very kind of significant psychological impact on them. We see also how people are exhausted by working conditions. For example, the lack of electricity during the wintertime blackouts, the absence of internet, and the general feeling of uncertainty, which also doesn't play well.
In terms of support, for example, we see how much donors are happy to support any Russian media organization which relocates somewhere to the west, and that's mostly about survival. It's not about development, it's not about conceptualizing the future of Ukrainian media markets; just to survive and to continue some operations. It's pretty much metaphorical also compared to the military aid coming to Ukraine. So that's just enough to make for another two month period, three months period, but that's not about the development for the future.
OL: I also wanted to add that since I was working with international media, it's quite expensive to report from the war zone, compared to the peaceful time. Even speaking of transportation, you need a car, you need fuel. In the beginning there were big shortages of fuel. The prices increased dramatically. You cannot just take a train from point A to point B because of the security reasons. Everyone prefer to travel on car. International media have that resources, but for local teams it can be challenging and just expensive. Yes.
YF: There is one more aspect which puts Ukrainian journalists sometimes in kind of less advantages position because they complain that foreign journalists has more access now to the frontline. They have preferences with access. Ukrainian media are having a lot of limitations in getting access to the frontline, and that put also them into very kind of unfair position compared to the foreign colleagues.
OL: I agree because I even know speakers, like Ukrainian politicians or NGO workers who actually said that because there was so many requests from media to comment on something, they prefer to talk with international media because this way you get broader attention and more views. So that's another I agree with that, yes.
LH: I'd like to tease that dynamic out a bit more. How do Ukrainian journalists and media organizations see the relatively recent and intense involvement of Western journalists in Ukraine? Is it welcome? Is it seen as disruptive to Ukraine's own media landscape? Could you shed light on how people in the field are thinking about that dynamic?
DO: I think it's not that easy to have a full picture. Certainly one would have to, I don't know, make a survey of journalists asking about their experience. First of all, most Ukrainians, especially those who work in the media, journalists who know how it is important to have this visibility, they are glad to see that Ukraine attracts foreign journalists. They are glad to see that there's a lot of content produced as a result of that. Also, many Ukrainian journalists use this opportunity to work with foreign media. Sometimes they work as fixers, and there's the entire conversation about the justice, injustice with regard to fixer work. But I could see some examples of Ukrainian journalists helping local producers also for foreign media and trying to do their best to show Ukrainian perspective, because they know the local context a lot. They know how to find heroes, experts, and they add this layer of local context, which is good.
Certainly there is some, one could call, it may be envy for the resources that many foreign media have. For example, I've interviewed one of the Ukrainian freelance journalists who says that he basically often works as a fixer with foreign media in order to earn money so that he could then go and make his own reports from the frontline. So he's really eager to do that coverage from the frontline, but he likes resources. He also provided all these calculations that Olena mentioned, like how much it costs to hire a car, fuel, hotels, and all other things.
YF: Also, some Ukrainian journalists are complaining that the coverage in Western media in recent months became, so to say, less optimistic about the outcome of this war; that is, they cast doubts about Ukraine's possibility for this supreme counteroffensive, which was much promised and other things. We see how the tone of the coverage changes little by little, because, again, of this kind of long continuity of this war where we pace of the events connected to it. That's also one of the kind of points of complaint that international media are now less kind of optimistic about what actually Ukraine can achieve as a result of this war. But that's definitely also a question if it's kind of a pure media sentiment, or it's more infused through political feelings. So it's still kind of an open question.
LH: Yevhen, to your point about sentiment in the media about the conflict in Ukraine shifting in the past few months, I'd like to switch gears and talk a little bit about disinformation, which some have argued is part of the reason why projections for the war in Ukraine are looking maybe a bit more bleak than they have in the past in the media. Maybe disinformation is to blame for this sentiment shift in some ways. I'd like to hear from you all, what is on your mind at the moment regarding the role of disinformation at this point over a year into the full scale invasion? What can recent events kind of tell us about what we should be looking out for?
YF: As soon as Russia would be losing on the front line and we see they have less and less achievements, definitely they would switch to those kind of non-kinetic domains where they still can dominate. Obviously disinformation is one of those domains. The situation with journalists and with increased volume of disinformation definitely says that they opt to use this kind of non-kinetic instrument to achieve more political leverage in this situation. And also, I think they would more trying to use instruments like intelligence leaks for example, which they can use for their own benefit; also cyber domain would be one of the fields where Russia still can use its potential. So we see how the gear are shifting from kinetic to non-kinetic instruments. It doesn't mean that Russia is interested to stall their fighting on the front line; they just don't have capacity to advance much over there. But they would also combine all those two scenes together, that my prediction is.
DO: Yeah, I agree. I think that now there is much less content about Ukrainians, the stories from Ukraine, but there is much more content around Ukraine. And again, Ukraine in this case, we've been saying that how excited we were that Ukraine gained more agency in the discussion, in the conversations, in the media coverage over the last year. But now we can see that again, these agency is being a bit slighted away while rather the coverage centers on these big games, including the games with intelligence. So that is certainly a quite worrying signal.
YF: I agree with what Dariya says that we see the shift in focus in this conversation, and that's very worrisome. Because previously we saw a lot of coverage of how great Ukraine was doing, achievements of survival, huge resilience. That was kind of a heroic discourse, heroic narrative which kept the attention to Ukraine alive, and actually kept people trying to help Ukraine, because if they see that this is a success story, you always want to be on the side of something good.
But when the focus started to shift, and that's exactly what Russia was trying to do, they want to move the focus from Ukraine itself to the numerous domestic issues within each country and try to exploit those problems which are over there political problems, economic problems, financial problems. And that's because of Ukraine. Because Ukraine doesn't want peace, we would see the more unemployment, more war spending, and other things, and that works for many countries. So of course we did not expect that the resilience in other countries would last that long. But slightly, the local problems start dominating the political agenda, and that's exactly what Russian disinformation wanted to achieve.
OL: I want the world to understand that Russia has quite a big experience in conducting information warfare. Sometimes I see on social media journalists laughing from Russian state TV, and it's just one of the examples of Russian propaganda. It's sort of one of the most obvious one, which is it's quite rubbish. Everyone knows it. But it's very easy to spot on, but it's not the only one. And when Ukrainians telling you that certain things that happen, certain narratives that appear of all of a sudden in the media, it's not some kind of conspiracy theory. We are not too emotional. We are not crazy. It's something that we notice because first of all, Ukrainians all speak Russian. I mean everyone, all Ukrainians know Russian, and all Ukrainians experienced all this Russian narratives trying to attack us, our country for years. Ukrainians quite an expert in Russian propaganda, and the world has to think about it more and pay attention more to this.
LH: Olena, you raised the point that there's some disinformation that might feel so obvious, like watching Russian state TV anchors or something. But then you've all also mentioned the ways in which disinformation can be so nuanced and so ingrained and contextual, something that might be so obviously disinformation to someone from Ukraine might feel like it's up for debate for someone who is watching from Europe or the US. How do we get people attuned to the nuances of disinformation? How do we encourage those who consume the news to be critical of what they're seeing, even when that disinformation is so nuanced?
OL: The thing that comes to mind for me is that the journalists who create this news, they need to hire local experts, local producers, journalists who will explain to them all the context and all the nuances in a particular field. I'm talking about this because I worked as a local producer, the fixer for NPR since the full scale invasion. I was that person who tried to explain to the media that there are certain issues that require the knowledge of a local producer.
And just remembering that experience of working as a local producer with international media, there was this special moment, like really, really surreal moment in January 2022, when all of a sudden all these international reporters just appeared in Kyiv downtown. They were just hanging around, eating in restaurants, and sort of just waiting. Most of these journalists, they took the possible invasion really seriously, and they were quite anxious. Actually, they were constantly asking the locals, "Why are you not preparing? Something bad's going to happen. Why are you not reacting properly?" Which was also quite surreal and weird of we just continue living, and a lot of people was trying to explain that the war already has started.
YF: Also speaking of countering disinformation, here we can use the same analogy as Olena suggested with a kind of freelancer who can help the journalists to understand the context. That's exactly what fact checkers are doing for other people to understand the wider context of disinformation, how it works, what narratives it exploits. So from this point of view, it's very important that people would pay attention to what fact checkers are doing because it's really kind of a part of our media literacy wide efforts. We educate people by constantly telling them that not every piece of information they consume is actually journalism, even if someone wants to portray it as it is. We've been doing that constantly since 2014. I think because of this kind of long period of our efforts, we were somehow successful in raising awareness and building resilience. But even in Ukraine where there is kind of a price of information, sometimes it's life or death question, people are still sometimes quite kind of ignorant about the very basic rules of how to deal with information, on what platforms to rely.
For example, a lot of people in Ukraine are using Russian Telegram as a main source of information, but also for communication purposes, including government. We've been arguing for quite a long period of time that it's not a safe platform. It's Russia created, Russia controlled. But for people it's just a question of comfort, and if they're accustomed to use it, they just do not want to change anything. Also, the Ukrainian government is extensively using it by this, basically legitimizing it as a legit instrument as a social media platform. And this is kind of weird because in the times of the war, you should even be more worried about how platforms you are using are safe, information you are spreading is safe, and other things. So it should be of a primary concern because disinformation, as I said, became integral part of this war.
DO: Well, the media literacy question, I would say that it's not even a million dollar question; it's a billion dollar question. There are so many attempts to research and to come up with some policy suggestions with different levels of success, but still there is no certain answer. So how media literacy should be done in order to achieve what is hoped to be achieved, the well-informed and conscious media consumer. And of course the media environment is changing so fast that all the programs created with the idea of explaining how this media ecology works, what actors are there, and what intentions they could have, and what kind of content they could produce. So while these educational programs are created, the media sphere is changing, so it's hard to catch up with that.
But certainly it's a matter of education in general. It's a matter of teaching children and then adults to have a more nuanced understanding of the world. Because what we see with disinformation is that very often it caters to this black and white picture of the world and simple explanations. On the other hand, it also weaponizes critical thinking to some extent, because sowing a lot of mistrust to everything. Another crucial aspect is building decent institutions, networks of institutions, and also a system in building trust for those institutions. Because I think that this matter of lack of trust and too much cynicism, which often turns into nihilism in many cases, is also a problematic issue.
LH: Speaking of institutions like governments, but also speaking of platforms like Telegram, I immediately think about Ukrainian president, Volodymyr Zelensky, who is a prolific Telegram user, or at least was at the beginning of the war, as well as Twitter and other social media platforms, and has also really been a major feature in Western news, especially in terms of the coverage of the conflict. I'm curious to what extent you all see Ukraine's leadership as being important to the media environment that has emerged around the conflict. To what extent has maybe President Zelensky's own self-produced content or relationship to the media would you say influenced how this conflict has been covered or how it's developed?
OL: Well, in the early days of the full-scale invasion, I was the one who would translate all these videos that would appear with Zelensky every morning until their team added subtitles, which helped everyone. But it was really instrumental for media. They loved to use the quotes which were well recorded, which appeared every day. I think it was really helpful for journalists, yeah.
YF: Yeah. I can quote here President Zelensky who says that Ukraine would surprise you. I think that how Ukraine was communicating this war since the very first days was a very surprising element because nobody expected that. Usually people were not expecting that doing videos would become one of the major efforts coming from the president leading the country at war, but it was important. It was successful, especially at the very early stage of this. And definitely it helped to map this war on the mind, map of many, many people around the world, because he was speaking to media, to university communities, to parliaments. And I mean, of course the time for that is over. Because in communication you always need to reinvent yourself, and you always need what is called communication peaks. And for that, you should always invent different instruments, because again, with the pace, how people are now using media, they want every minute something else from you. And Ukraine is competing with many other events around the world, and a lot of domestic events.
The question is what else Ukraine can do from communicational point of view to continue mapping itself importantly around the world. This is kind of the open question, so we still need to see with what else we can surprise the world.
DO: I also agree that the big question is, "What's next?" Because no matter how likable one is, at some point, one has to come up with something new in order to continue generating the interest. Ukrainians have proved to be really successful in leading the struggle. But then the big question is, how Ukrainians are going to win the struggle and what they're going to suggest to the world after winning the struggle? But let's be hopeful that we will come up with some creative solutions as well.
LH: To end on maybe a reflective note, I'd like to pick your brains as to what kinds of opportunities you might see emerging from this moment in Ukraine. What can we be hopeful about in terms of lessons learned, or opportunities that might arise from this challenging moment? What are you thinking about going into the next phase?
DO: We mentioned several times about the world discovering Ukraine in our conversation, but I think it is also important to understand that Ukrainians are discovering themselves, Ukrainian society. And for me, that's the biggest source of potential opportunities as you asking, Liz. I really hope that this rediscovery of Ukrainian identity and this rediscovery of power that Ukrainian society has will suggest some ways, creative ways, and some new ways for Ukraine to build a prosperous society, a prosperous country, and free from external influences and threats.
OL: My take might be less positive, but I just want to say that if Ukraine would not be given proper security guarantees like NATO membership, we cannot really talk about those beautiful future opportunities that Ukraine might have. If we will get security guarantees, we will rebuild the country. But if our Western partners would be too afraid, to slow to react, it's really hard to think what the future can be actually.
YF: I would say that Ukraine demonstrated a lot of miracles, military miracles, political, communicational, but we cannot rely on the miracle all the time and the resilience of Ukrainian people. I would totally support the idea of my colleagues that Ukraine really needs a lot of support. This is not Ukraine's war. This is the war which Ukraine is forced to conduct, is forced to fight back. It's important that Ukraine would continue to see that support. Because that was important from the very first day of the full scale invasion, that Ukraine knew that we are not alone, and that gave the additional efforts to people fighting. This is not the Ukraine fights because this is a fight for universal things.
LH: Well, thank you all so much for this really, really rich conversation. I really appreciate it. It was a real privilege.
Feedback
We'd love to hear from you, especially if you have stories about this podcast, our Center and anything in between. Feel free to write a note or record a voice memo on your smartphone and email it to media.risk@asc.upenn.edu; you can also find us on Twitter and Facebook at @ASCMediaRisk. Though we're a small operation, we're always open to pitches and new stories.