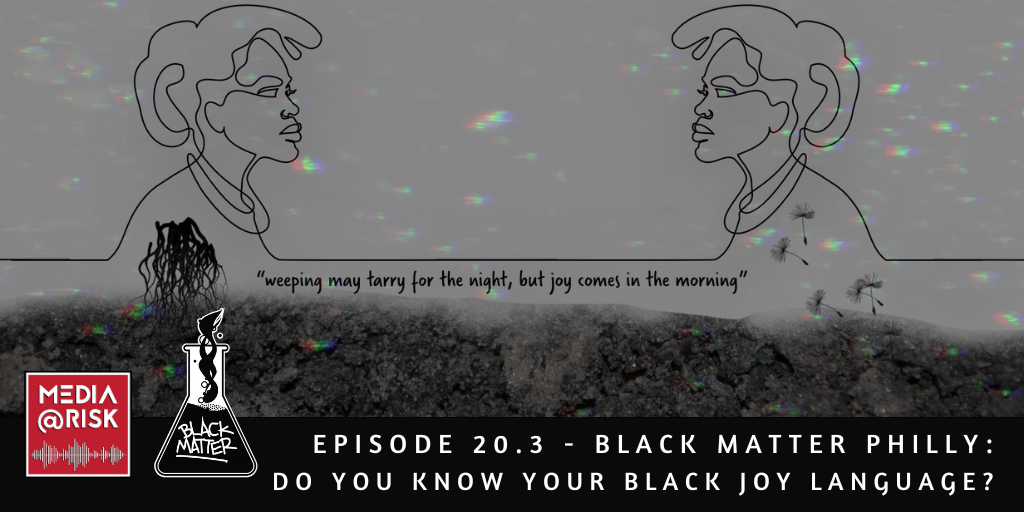 Welcome to Black Matter, the podcast using media-making to center and celebrate Black joy. Host and creator Chaz Barracks is a postdoctoral fellow for the Center for Media at Risk whose research focuses on Black joy, how to find it and the way Black people talk about it.
This is the third in a three-part series that unpacks Black joy from the point of view of local artists and scholars in Philadelphia, a city known for its vibrant music, performance and arts scene. Through the course of the series, Dr. Chaz invites you to take a moment to reflect on joy embodied through the spaces and stories of Philadelphia.
In this episode, Philadelphia artist and founder of the Museum of Black Joy, Andrea Walls, joins Dr. Chaz in his office at Annenberg to discus healing, story-sharing and doing work that embraces the nuance, complexity and contradiction that is the human experience.
CREDITS
Chaz Antoine Barracks, Ph.D., (Media, Art, Text, Virginia Commonwealth Uni) is a Blackademic, artist-scholar, podcaster, filmmaker and postdoctoral fellow at the Center for Media at Risk. His scholarly practice is grounded in interdisciplinary studies that pull together performance research, Black Studies, rhetoric and communications, film and digital humanities. After completing his doctorate in 2020, he wrote and directed the Everyday Black Matter film project, which launched from his emerging media hustle Black Matter Productions, LLC. Chaz hosts the Black Matter podcast, which is a social platform for and by Black/PoC queers and femmes that serves as a curatorial space for museum exhibitions, live performance and archiving of alternative forms of making and producing knowledge. Find Chaz on Twitter @ChZ_PhD
Andrea "Philly" Walls is a multidisciplinary artist, informed and inspired by the writers and visual artists of the Harlem Renaissance and Black Arts Movement. She is among the first cohort of artists to be designated as Philadelphia Cultural Treasures and is serving in her third year as Artist in Residence at Drexel University's, Writers Room. She is pleased that her writing, scholarship, and visual art have been supported by organizations she admires, including the Leeway Foundation, VONA/Voices Workshops for Writers of Color; Black Public Media/MIT Open Documentary Lab, Hedgebrook Residencies for Women Authoring Change; The Colored Girls Museum; Writers Room at Drexel University; The Studio Museum of Harlem; The Women's Mobile Museum, Eastern State Penitentiary; Mural Arts Philadelphia; and FabYouth Philly. In addition to The Museum of Black Joy, Andrea is the creator and curator of The D'Archive.com, author of the poetry chapbook, Ultraviolet Catastrophe (Thread Makes Blanket Press) and the digital web-collection, The Black Body Curve. com
This episode was produced by Chaz Barracks and edited by Jasmine Erdener.
FEEDBACK
We'd love to hear from you, especially if you have stories about this podcast, our Center and anything in between. Feel free to write a note or record a voice memo on your smartphone and email it to media.risk@asc.upenn.edu; you can also find us on Twitter and Facebook at @ASCMediaRisk. Though we're a small operation, we're always open to pitches and new stories.