Speaker(s): Ra Malika Imhotep and Jasmine Gibson
About the Event
Hosted at JAZZBOX this will be an intimate gathering (centering the voices of Black gender non-conforming people, queer folks, women, femmes) in dialogue about themes of black femininity, ancestral inheritances, Black survivorship, plant medicine, queer embodiment, reproductive wellness, autonomy, time travel, and more. Ra Malika Imhotep will be joined in reading & conversation by Philly jawn, poet, and social worker Jasmine Gibson who will read from her new work A Beauty Has Come (nightboat books).
Light drinks and bites will be provided by JAZZBOX.
The first 10 attendees will receive complimentary copies of Ra Malika Imhotep's book gossypiin (Red Hen Press)
This event is facilitated by Farrah Rahaman presented with support from The Center for Media at Risk, The Center for Experimental Ethnography and The Colored Girls Museum. 
About the Book
This harvest of poems is inspired by the plant medicine latent in Gossypium Herbeceum, or Cotton Root Bark, which was used by enslaved Black women to induce labor, cure reproductive ailments, and end unwanted pregnancies. Through an arrangement of stories, secrets, and memories experienced, read, heard, reimagined, and remixed, gossypiin reckons with a peculiar yet commonplace inheritance of violation, survival, and self-possession. In this way, Ra Malika Imhotep invites us to lean in and listen good as the text interrupts the narrative silence around sexual harm, sickness, and the marks they make on black femme subjectivity. Within these pages, the poet is joined by a "sticky trickster-self" named Lil Cotton Flower who tells of their own origins and endings in the Black vernacular traditions of the griot and the gossip. Interspersed throughout the collection, Black feminist wisdoms and warnings meld with the poet's own yearnings and Lil Cotton Flower's tall tales.
A Beauty Has Come is the forthcoming collection of psychedelic poems inspired by Egyptian queen Nefertiti, exploring the slippage between her image and legacy across time, place, and space.
Book Link: https://redhen.org/book/gossypiin/
https://nightboat.org/bio/jasmine-gibson/
About the Author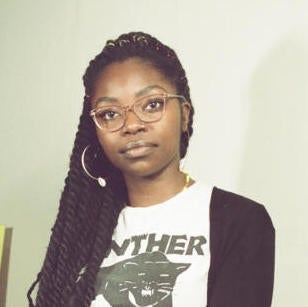 Ra Malika Imhotep is a Black feminist writer, poet and performance artist from Atlanta, Georgia currently pursuing a Ph.D. in African Diaspora Studies and New Media Studies from the University of California Berkeley with a Designated Emphasis in New Media. As a scholar and cultural worker, Ra is invested in exploring relationships between queer Black femininities, Black vernacular cultures, and the performance of labor.
As a steward of Black Studies and Black feminist thought, Ra dreams, organizes, and facilitates spaces of critical reflection and embodied spiritual-political education through The Church of Black feminist Thought and other collaborations. Ra is co-author of The Black Feminist Study Theory Atlas and author of gossypiin (Red Hen Press, Spring 2022).