Former Media at Risk visiting practitioner Olena Lysenko chronicles the history of modern Ukrainian cinema which continues to evolve in the wake of Russia's full scale invasion.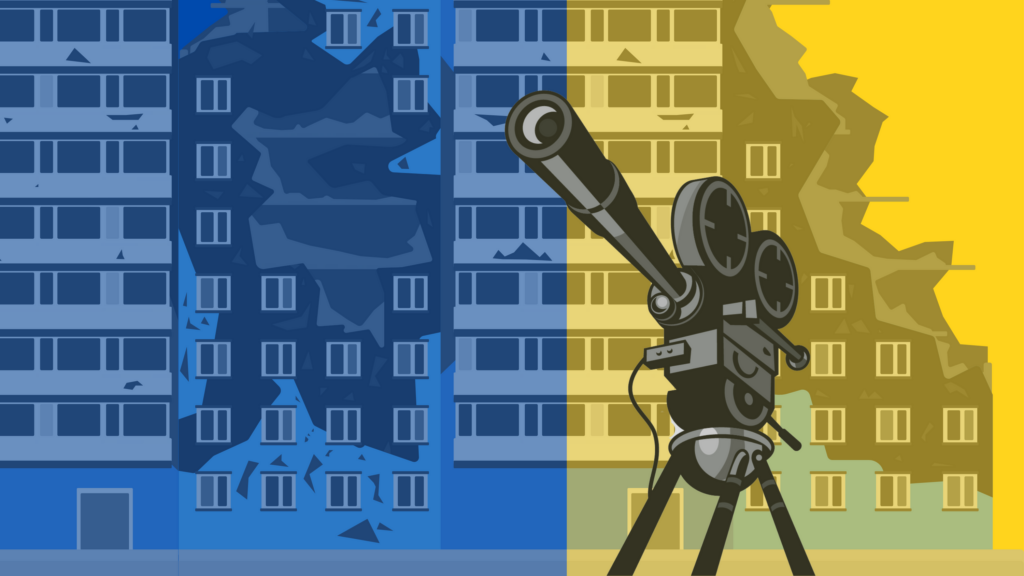 A country's film industry is intrinsically tied to its economic, political and social circumstances. Ukraine, which gained independence in 1991, is no exception. The lingering effects of Soviet-era Russification policies, which were designed to suppress Ukrainian history, culture and language, continued to shape both Ukrainian society and its cinema for years. Economic crises in the post-Soviet era brought new challenges to film funding and distribution in Ukraine. The economic instability of the early 2000s forced many Ukrainian film studios to outsource and rely on labor from Russian film and TV productions, deepening financial dependence on the Russian market and extending the dominion of Russian cinema in Ukraine.
Nevertheless, the rediscovery of Ukrainian national identity gradually intensified, catalyzed by civic engagement in the Orange Revolution in 2004 and the Revolution of Dignity in 2014. Ukrainian film continued to be shaped by its socio-political circumstances, especially following Russia's military aggression in Eastern Ukraine and Crimea in the mid 2010s and, eventually, in the wake of Russia's full-scale invasion in 2022. This ongoing war marks the Ukrainian film industry's decisive break from Russia, and the stakes have never been higher to solidify national identity and to pivot toward European film markets.
Sociopolitical Changes in Ukraine

The Revolution of Dignity (2013-2014) is a useful starting point for understanding the current state of Ukrainian documentary cinema, and how it got here. The Revolution of Dignity, also known as the Euromaidan, marked the beginning of a seismic political transformation in Ukrainian society. Experts often credit the subsequent surge in civil engagement and Ukrainian cultural revival as one of the Revolution's most significant legacies. Since then, activism and Ukrainian filmmaking have often worked in tandem, as filmmakers aim to use their craft to raise awareness about political or social issues in the country. 
Protests related to the Revolution of Dignity first began in November 2013 in response to then-President Viktor Yanukovych's refusal to sign an EU association agreement. The deal was seen by many Ukrainians as a historic chance to strengthen political and economic ties with the European Union and, potentially, a step toward becoming an EU member state. Despite years of negotiations, Yanukovych opted to seek closer ties with Russia. The number of protesters grew each day, and soon hundreds of thousands of Ukrainians gathered in Kyiv's Independence Square, despite threats of police brutality, assault, kidnapping and unlawful arrest. Those assembled rallied against government corruption and abuse of power, demanding democracy, freedom, human rights, economic security and open and transparent politics. Each of these demands had a direct impact on the form and content of the documentary films that would follow.
The Ukrainian film collective Babylon'13 is one of the most important and enduring projects that emerged during this time. The collective was established in the early days of the Revolution of Dignity to raise awareness about the protests and promote the development of civil society in Ukraine. Throughout the revolution, the group made over 100 short films, which were uploaded to its Youtube channel. No authorship was assigned to these early videos as Babylon'13 considered the films to be collective efforts rather than individual achievements. According to film critic Serhii Trymbach, 'collectivism' is a long-standing tradition in Ukrainian cinema, first pioneered in the 1920s with the All-Ukrainian Photo Cinema Administration (VUFKU). Agitating for social change has remained the primary mission for members of Babylon'13, even if that means forgoing individual accolades. Director and member of Babylon'13 Larysa Artiugina explained: "Many filmmakers shoot the revolution individually. They accumulate material to later edit a 'genius movie' and win an 'Oscar.' It's more important for me to get positive changes for the country than an Oscar." The collective's short films incorporate minimal narration, as with traditional cinéma vérité, and seek to capture reality, becoming a 'mirror' for society by focusing on human relationships, self-sacrifice and resilience.
The Revolution of Dignity culminated on February 20, 2014, when police opened fire on activists in Kyiv. In all, police killed more than 100 protestors throughout the three months of demonstrations. In the days following the police fire, President Yanukovych fled to Russia, and the Ukrainian Parliament voted to remove him from office. The protests appeared to be a victory for the people of Ukraine.
Documenting The Frontline

But in the aftermath of the protests, Russia responded with hostility. At the end of February  2014, the Russian Federation swiftly ordered the annexation of Crimea, and in spring 2014 it ramped up military aggression in eastern Ukraine involving the so-called "Luhansk People's Republic" and "Donetsk People's Republic," Russian Federal Security Service forces and regular Russian army units. During this time, 1.5 million Ukrainians were internally displaced and forced to seek safety in other regions of the country. Russia also began spreading aggressive propaganda to international audiences. Russian media falsely labeled the conflict "a civil war" despite myriad evidence to the contrary, such as captured Russian soldiers in Ukraine. This 'hybrid war' tactic gained traction due to widespread ignorance about Ukraine, resulting in a weak global response to Russian military transgressions.
Post-revolution leadership in Ukraine ordered a partial military mobilization to combat the growing threats from Russia. To address troop shortages, civilians, including many former Revolution of Dignity activists, formed volunteer battalions and quickly deployed to the eastern front.
At the frontline, Ukrainian forces faced critical shortages of uniforms, personal protective equipment, first-aid kits and thermal cameras. Many soldiers had to buy their own gear or depend on activists who were raising money for the troops on social media. This experience was captured in the documentary War at Our Own Expense (2014). The director joined Ukraine's National Guard to get a firsthand understanding of the challenges faced by new recruits.
In the coming months, military events unfolded quickly, and some directors who had filmed the early days of the Revolution of Dignity suspended those projects because of the urgent need to document heightening tensions in eastern Ukraine. Babylon'13's The First Company (2018) chronicles this transition period, using long, meditative shots to trace the path from civil protest to enlisting in a volunteer battalion. Another film that traces this transition period is Alisa in Warland (2015), directed by Alisa Kovalenko and Lyubov Durakova. The film began as Kovalenko's personal diary, chronicling her struggle to maintain personal relationships while participating in the Revolution of Dignity and, eventually, the war. The film shows how Kovalenko struggled to be a detached observer, perhaps most notably demonstrated by a scene in which she shoots a gun at a training range.
Navigating between documenting and fighting was a common dilemma for Ukrainian filmmakers. Leonid Kanter, co-director of The Ukrainians (2015), joined the Ukrainian National Guard but later realized that he was "more useful with a camera than a machine gun." Kanter soon left his military service but continued to make regular trips to the frontline to deliver aid and search for subjects for his next film project. Eventually, Kanter decided to profile members of a volunteer battalion, which he saw as the embodiment of the new Ukrainian army. Kanter and his co-director Ivan Yasniy captured wide-angled footage of vicious battles fought over Donetsk Airport, intercutting the footage with testimonies from soldiers about why they enlisted and their stance on patriotism and liberty. In 2018, Kanter and Yasniy released Myth (2018), a follow-up film that built upon this concept of 'choice' during war. The film follows Vasyl Slipak, a successful France-based Ukrainian opera singer who returned to Ukraine to join a volunteer battalion. He later tragically died on the battlefield in the Donetsk region. Through interviews with Slipak's colleagues, friends and fellow soldiers, the film considers whether war is a place for artists.
In late 2014, Ukrainian authorities granted media practitioners access to the frontline by issuing press accreditation. In order to meet with the military, media practitioners had to negotiate their movements with an army press officer. For some filmmakers, the improved proximity to the official Ukrainian Armed Forces was not always sufficient, and many opted to film with the more media-friendly volunteer battalions, which allowed filmmakers to stay at the frontlines for longer than permissible through official military channels. For example, Alisa Kovalenko was forced to film Alisa in Warland (2015) without official press accreditation for weeks "because no one wanted to take responsibility for the life of a young film school student."
During this period, film crews learned critical wartime skills for operating under fire without endangering Ukrainian soldiers. This work involved immense risk, including torture and sexual violence in Russian-occupied territories. Despite the threats, Babylon'13 filmmakers were willing to stay with soldiers in trenches. "We cannot work like television crews, who come and go, leaving soldiers under fire in cold trenches. We stay with them," Yuliia Hontaruk noted. In 2016, the collective released the full-length film Crimea, As It Was (2016), a sequence of first-hand accounts of servicemen who grappled with the choice of remaining loyal to Ukraine or siding with encroaching Russian forces.
Following the annexation of Crimea, Ukrainian film director Oleg Sentsov gained international attention not for his films, but because Russian forces detained him in May 2014 under false 'terrorism' charges. He was subsequently transferred from Crimea to Russia and detained in a high-security prison. He was finally released in 2019, after spending 145 days on a hunger strike.
The Consequences of War

In February 2015, the second Minsk Agreement between Ukraine and Russia eased tensions slightly. However, fighting evolved into trench warfare, causing the 260-mile frontline to stall in the occupied territories of Donetsk and Luhansk regions. Crimea had been annexed, as the war in eastern Ukraine continued and the rest of the country was peaceful.
As time passed, the number of veterans with combat experience grew, bringing about new difficulties for soldiers returning to civilian life while coping with the combat-related stress. Filmmakers began chronicling the post-war veteran experience, using film as a form of activism and holding officials to account for failing to support veterans, which eventually led to legislative and policy changes. For example, Alina Gorlova's No Obvious Signs (2018) is a cinéma vérité study of a female soldier's transition from the front line back to civilian life and her struggle with PTSD. The film became an advocacy tool, highlighting the need for quality rehabilitation for Ukrainian veterans. Another example of advocacy through film is Invisible Battalion (2017) by Svitlana Lishchynska, Alina Gorlova and Iryna Tsilyk. The film tells the story of six female military servicewomen and eventually evolved into an advocacy campaign championing equality and women's rights in the Ukrainian military.
At this time, documentarians also sought to tell the stories of civilians whose lives had been affected by heightening military involvement, especially those living close to the frontlines in eastern Ukraine. An estimated 400,000 children lived in these affected areas, so filmmakers quickly adapted to learn the necessary skills to work ethically with children and young people. Many children living in active conflict zones had witnessed or experienced trauma, so filmmakers were careful to avoid practices that could trigger or re-traumatize their subjects. Liza Smith and Georg Genoux, directors of the Berlinale-winning documentary School No. 3 (2017), initially collaborated with teenagers from the Donetsk region in a documentary theater project before making the teens the subject of the film. Using this approach, Smith and Genoux built upon preexisting relationships to foster trust and transparency, which played a crucial role in emboldening the teenagers to open up about their experiences. Taking it further, some directors worked in "gray zones" situated between Ukraine-controlled territory and Russia-occupied regions, where around 15,000 children lived in actively dangerous conditions. Taras Tomenko, director of Boney Piles (2022), began documenting the lives of children in the "gray zones" as early as 2014. He stressed the importance of allowing the children to "simply exist in front of a camera," without attempting to evoke any pity or coercing them to act against their will.
Beyond the frontlines, the reality of war was nearly invisible to much of the rest of Ukraine. Interest slowly waned, and gradually even society became desensitized to the military conflict. In War Note (2021), Babylon'13 member Roman Liubyi wanted to transport civilian viewers to the frontlines to reveal the dangers and claustrophobic realities experienced by soldiers. "I didn't want it to be a subculture thing that only war veterans would watch, but I also wanted it to be watched by people who were very far away from the war," says Lyubyi. He also set out to make the film engaging for the non-military viewer. Forgoing voice-overs, captions or narration, his film was constructed entirely from mobile phone and GoPro footage shot by soldiers. Employing "conceptual" editing, Lyubyi abruptly cut the video clips at the most suspenseful moments of danger to create cliffhangers. "The story moves from summer to winter, from a newly enlisted to an experienced soldier. It moves towards the death: first we hear something, then we see the destruction, and then we are extremely close to death." Liubyi, who views films about war as a form of activism, sums up this period in Ukrainian documentary cinema neatly, stating, "actually, no one wants to make a movie about the war, but it has to be done."
Impact of Changes in Government Regulation on Film Production

In 2014, despite the struggle for survival as a sovereign country amidst the ongoing Russian hybrid war, Ukraine held Presidential and Parliamentary elections, electing Petro Poroshenko. During Poroshenko's time in office, many significant state reforms were enacted, driven in large part by pressure from civil society, advocating for rule of law, government accountability and anti-corruption measures. In a pivotal moment, Poroshenko signed an Association Agreement with the EU, which unlocked new economic opportunities for Ukraine. These reforms extended to the realm of culture and notably impacted film production.
Ukraine was home to a new generation of enthusiastic filmmakers. These practitioners, emboldened by a significant cultural revival, fueled the growth of Ukrainian documentary cinema during this time. Also important was the introduction of the Law On State Support For Cinematography in 2017, which mandated an increase in state funding through an open public pitching system at the Ukrainian State Film Agency (Derzhkino). Derzhkino's head, Pylyp Illienko, played a pivotal role in this process by uniting the film community and securing significant funding through lobbying efforts. The Ukrainian Parliament prohibited the broadcasting of Russian-produced films and television series, which had previously dominated the Ukrainian market. According to art critic Daria Badior, both newcomers and experienced directors were able to receive state support at Derzhkino. This funding also encouraged co-production projects with European countries and enabled Ukrainian films to more easily enter foreign markets, ushering in an era of new media projects, festivals and film awards like Golden Dzyga and Kinokolo.
For the first time in history, Ukrainian authorities were financing not only traditional state cultural institutions but independent cultural projects as well. To that end, in 2017 the Ukrainian Cultural Foundation was established to provide equal access to state funding for cultural organizations through open competitions. The same year, the Ukrainian Institute was created to promote Ukrainian culture abroad, including through cinema.
From 2017 onward, Suspilne, a public broadcasting service, produced and showcased Ukrainian documentaries. Dovzhenko Centre, the largest Ukrainian film archive, underwent a transformation into a modern, trendy center under the leadership of Ivan Kozlenko. The Center popularized lesser-known works from the Ukrainian silent film era and put forth programming like lectures, exhibitions, screenings and parties aimed at rethinking Ukrainian cinema heritage.
Still a young industry, Ukrainian cinema faced infrastructural challenges and ​​the need for legislative reforms. It included a lack of movie theaters, many of which closed after the collapse of the Soviet Union, worsened by economic crises and government disinterest in cinema support. Another problem was widespread hesitation about complying with new Ukrainian film quotas and disinterest from TV channels in purchasing Ukrainian documentaries. Independent Ukrainian cinema was still a burgeoning industry and needed time to improve marketing strategies and expand its genres. According to a 2020 survey, 37% of respondents who did not attend Ukrainian film screenings in theaters cited a lack of interest in domestic films. Additionally, 26% expressed a preference for genres rarely represented in Ukrainian cinema, while 17% deemed Ukrainian cinema to be of poor quality or uninteresting. Logistical restraints, like inconvenient or limited screening times and locations, also hindered moviegoers. Ukrainian cinema was a new phenomenon for distributors as well, which often led them to opt for the "safer choice" of Hollywood films when releasing movies. In particular, then-Head of Derzhkino, Pylyp Illienko, argued that cinema managers frequently scheduled Ukrainian films during less popular screening times. Still, from 2014 to 2019, the box office share of Ukrainian feature films grew from 1.78% to 8.28%.

In 2019, President Volodymyr Zelenskyy took office and appointed former television producers to key governmental positions responsible for shaping cultural policies. This led to alterations in existing cultural policies and a reduction in state funding for films. Also, the authorities introduced cash rebates to attract foreign film crews to shoot in Ukraine, offering to reimburse a portion of local production costs. Additionally, Ukraine joined Eurimages, which was a positive development as it expanded the opportunities for Ukrainian filmmakers to access additional funding from the EU and expand their sales market. The appointment of Maryna Kuderchuk as the head of Derzhkino and changes to the pitching rules, including the introduction of producer and director ratings based on past box office performance and festival success, along with a diminished role for independent experts in project evaluation, sparked dissatisfaction and protests within the film community. The Covid-19 pandemic further affected the industry, causing financial losses for movie theaters and shifting film festivals online, while film production carried on according to the rules of adaptive quarantine.
Bringing Awareness Internationally

Starting in 2016, Russian military aggression against Ukraine no longer dominated international media headlines, which is why filmmakers sought new ways to reach a global audience. The relative distance from the "hot phase" of the war allowed them to delve deeper into events and embrace more poetic and creative storytelling techniques. Additionally, Ukrainian producers gained valuable experience distributing films abroad through international film events and workshops. The Docudays UA film festival actively supported this process, offering online workshops on film production and sharing information and resources for Ukrainian producers via social media. These initiatives helped Ukrainian filmmakers achieve success, winning prestigious awards abroad and screening their films to international audiences.
Alina Gorlova's IDFA-winning film This Rain Will Never Stop (2020) situates the war in Ukraine in a transnational context. The film follows Kurdish-Ukrainian Andriy Suleyman, who escaped war-torn Syria only to face new danger from Russia in the Luhansk region of Ukraine. Shot in black and white, the film emphasizes the visual similarities between eastern Ukraine and Syria. Lacking a linear narrative and relying heavily on metaphors and symbols, Gorlova captures the rootless experiences of migrants in war zones and the liquidity of war, as it flows across borders in pursuit of its victims. Roman Liubyi's film Iron Butterflies (2023) also places the war in Ukraine within a global context. It only recently premiered at the Sundance Film Festival in 2023, but Liubyi had been working on it since 2019. The film follows the 2014 tragedy of the downing of flight MH17 from Amsterdam to Kuala Lumpur by Russian forces over eastern Ukraine and subsequent attempts to conceal its involvement in the attack. Liubyi was using a multidisciplinary arrangement of dance, performance, music, installation and video art, which seemed to serve as a critique of the audience's constant demand for entertainment.
Filmmakers sought to present a fresh perspective on the representation of civilians who were affected by war, breaking away from the usual portrayals seen in mass media. The subjects of these films do not fit stereotypical victim roles, often maintaining a light-hearted and enthusiastic attitude despite challenges, standing in stark contrast to the war-torn surroundings filled with military hardware outside their homes. The Sundance-winning film The Earth Is Blue as an Orange (2020) charts a year in the life of a mother and her four children living close to the frontlines of the Donetsk region. Reflecting on their wartime experiences, the children make their own short film. According to director Iryna Tsilyk, "This family is an example of how to be more than just a victim of war when telling your stories. […] It is crucial for all of us to find the strength to remain cheerful, regardless of the circumstances."
Similarly, We Will Not Fade Away (2022) presents a collective portrait of a new generation of teenagers from the Luhansk region, living in the shadow of a future full-scale Russian invasion. Despite the proximity to the frontline, these young individuals engage in typical teenage activities and nurture big dreams for their future. Their aspiration of traveling the world materializes when they embark on a collective trip to the Himalayas. Director Alisa Kovalenko wanted to show the war-torn region through the eyes of the teenagers, who see beauty in a grim environment. "We already have so many sad films about Donbas. I wanted to make something different, to make an energetic, upbeat film, because this young generation has so much light inside them, they can eliminate this dark world," noted Kovalenko.
Containing no direct footage of war, Roses. Film-Cabaret (2021) displays the experiences of Dakh Daughters, a Ukrainian music and theater group under the shadow of revolution and war. The film observes how the band transforms its experiences and channels its energy into art. It adjusts to the new realities, continuing to produce music, stage theater and raise families.
As of the end of 2021, despite facing difficulties, the Ukrainian film industry gained momentum and successfully represented its films to international audiences.
Russia's Full-Scale Invasion Against Ukraine

In February 2022, Russia launched its full-scale military invasion into Ukraine, transforming over 8.25 million Ukrainians into refugees. Overall, the ramped-up intensity and dislocation of finance, professional networks and internal mobility took a substantial toll on Ukrainian filmmaking. Some Ukrainian directors had prior experience filming near the frontlines, but the shift in the nature and intensity of the war proved too significant even for many experienced film professionals. Alina Gorlova, who had previously filmed in the war-torn east of Ukraine, noted, "These are two different wars with entirely different types of weapons involved. In fact, the current war even sounds different."
Many film practitioners, including directors Oleg Sentsov and Alisa Kovalenko, DOP Yaroslav Pilunskiy, producer Volodymyr Yatsenko, editor Viktor Onysko and pyrotechnician Oleksandr Suvorov, among others, decided to join the army. Alisa Kovalenko expressed on social media that she felt "cinema had become meaningless, and the only thing that mattered was defending Ukraine." Other filmmakers joined volunteer initiatives, helping the army or civilians. They eventually returned to filmmaking because they saw it as their duty to document the war: First, to broadcast the events globally; second, to collect evidence of Russian war crimes; and third, to ensure that films are created so that future generations of artists have material to work with.
During the early months of the full-scale invasion, filmmakers without previous war zone experience lacked protective equipment and first-aid kits. Most film professionals were looking for the know-how to operate under new conditions. Over time, self-organized activist movements and crowdfunding funneled material support and set up HEFAT workshops for documentary makers. Ukraine's infrastructure was incapacitated by Russian missile strikes, gasoline shortages, martial law, high inflation and the shortage of basic equipment – from batteries and flash drives to power banks. In the winter, the country experienced rolling blackouts and loss of heating as the electric grid and gas networks were targeted by daily Russian missiles strikes and Iranian-made drones.
After the Kyiv region was liberated, the public became aware of the horrifying atrocities committed by Russian soldiers in cities like Bucha and Irpin, where mass graves and evidence of civilian executions were brought to light. While traveling to these places, filmmakers complained of mental exhaustion. According to Alina Gorlova, her team's work pace changed to shorter filming days, as members quickly became psychologically exhausted. She noted, "You film for 1–2 days and then need 3–4 days to recover from what you've seen."
Funding for filmmakers also dried up, as Ukraine diverted all available resources to the Armed Forces and essential services. Under the heavy pressures of war, filmmakers were forced to rely on support from nonprofit organizations. The country's largest documentary film festival, Docudays UA, has become an instrumental actor in supporting the domestic filmmaking community. Since February 2022, the organization has broadcast the problems faced by Ukrainian filmmakers to international audiences. On its social media platforms, Docudays UA announces scholarships and international support initiatives. The Docudays team has been personally affected by the full-scale invasion: editor Viktor Onysko was killed in action, while moderator Maksym Butkevich was captured by Russian forces. Filmmakers expressed concern that many European funds would only offer money for co-production if the filmmaker could also secure funds from the national fund, which became impossible due to Ukraine's wartime budget constraint. Another issue was that some funds mandated the hiring of international film professionals, while Ukrainian filmmakers aimed to sustain their industry by employing local teams only. Additional financial support is now available from the European Solidarity Fund for Ukrainian Films, but unstable cashflow remains a problem, making it difficult for directors to plan and produce new documentaries.
Since the beginning of the full-scale Russian invasion, Ukraine's Ministry of Defense implemented a new accreditation system for media practitioners, granting opportunities to travel across the country and report on unfolding events. However, film crews have cited difficulties in obtaining accreditation because it is primarily aimed at journalists. This has resulted in directors like Volodymyr Tykhyi being forced to shoot his film One Day in Ukraine (2022) without accreditation. Under the new rules, filming of military facilities, checkpoints and the use of drones for video footage were all strictly prohibited. Over time, granting media accreditation became more complicated. With the Ukrainian troops' counteroffensive, territories were divided into zones. Filming was banned in the red zone, the most dangerous frontline, while the yellow zone required an army press officer's presence. The green zone allowed unrestricted work. The General Staff of the Ukrainian Armed Forces justified the new rules, stating that certain places were too risky for open access.
But interactions with other state officials have been more supportive. Filmmakers praised the Ukrainian Institute's support, funding assistance for film festival trips and showcases of Ukrainian films abroad. However, they expressed complaints about insufficient support from the Ministry of Culture and Derzhkino in attracting funding and assisting their work. According to a survey conducted by the Ukrainian Film Academy among its members, 79.2 percent thought the work of Derzhkino's director, Maryna Kuderchuk, was ineffective.
In June 2022, Babylon'13 co-founder Volodymyr Tykhyi released One Day in Ukraine (2022). Premiering at the Sheffield Film Festival just four months after filming, this cinéma vérité documentary portrayed the different ways people spent a day during the Russian army's attempt to occupy the Kyiv region. Tykhyi noted that filmmakers "should work quickly because they will be busy with filming entirely new events unfolding in the future." However, certain films couldn't be released immediately, because they could have jeopardized the subject's safety. Spliced together from video calls with Ukrainian soldiers at Azovstal steelworks during the Mariupol blockade, Yuliia Hontaruk's short film series Fortress Mariupol (2022) is a sequence of soldier's portraits, capturing daily life against a backdrop of relentless and intense Russian bombardments. According to the director, she didn't release certain short films, because her subjects were in a Russian captivity. "There is a fine line here. You're doing something important, ensuring people are remembered and known in history. However, you must be cautious not to cause harm. Nobody wants a film that could put the subjects at risk. It's a challenging situation," Hontaruk admitted.
In some instances, the film's style is not solely a creative decision, but also a deliberate tactic to counter Russian propaganda. In 20 Days in Mariupol (2023), Associated Press journalist Mstyslav Chernov used the format of a video diary to document Russia's atrocities against civilians, saying that it was critical for him to use as little post-production as possible to mitigate the risk of Russian authorities declaring the footage as staged. The only journalists in besieged Mariupol, Mstyslav Chernov and his team were awarded the Pulitzer Prize for their reporting. Other investigative journalists, who had previously covered corruption, also shifted their focus to documenting Russian war crimes occurring in Ukraine. In Occupant (2022), the investigative journalist Mykhailo Tkach analyzed the self-filmed video footage of a Russian soldier later captured by Ukrainian soldiers.
Amidst the full-scale invasion, countless videos were shared on social media daily. Compiling an archive of war crime evidence, interviews and combat footage – from Ukrainian as well as Russian perspectives – has become the mission of nonprofits like Docudays and Infoscope, which created The War Archive, a repository of videos and footage from media projects. The head of the archive, filmmaker Roman Bondarchuk, mentioned that some videos in their collection aren't made public due to security or privacy concerns and the general collection requires authorization for access. Another project, Ukrainian Witness, has begun publishing documentaries and interviews from dangerous areas of the front and inaccessible locations on YouTube. According to its founder, Vitaliy Deynega, the volunteer-run project aims to archive footage for international media outlets operating in Ukraine so the footage can be broadcast globally. Videos depicting life during war, filmed by witnesses and shared on social networks, caught the attention of the Sheffield Doc/Fest film festival, which curated a selection of these videos, naming it A TikTok War. It included short videos like How I Evacuated from Ukraine, POV: You Live in Ukraine and My Mom Cooks Syrniki in a Bomb Shelter.
As Ukraine's summer 2023 counter-offensive accelerates the need for the delivery of munitions and support, film and cultural productions play a critical role in maintaining a perpetual drumbeat of awareness about the war and the continued occupation of Ukrainian territory. Filmmakers were active at the biggest international film events to draw attention to Russian aggression. Ukrainian film crews have also pushed cultural and film festivals to critically consider the appearance of Russian films at events and the perspective of states that have been colonized – or invaded – by Russia. The Ukrainian Cinema Union appealed to the big film studios to stop selling their films to Russia.
Overall, despite the difficulties, directors continue their projects. With the unpredictable nature of war, they must prepare for a long and exhausting conflict with Russia, reorganizing their industry accordingly. Well before the beginning of the full-scale invasion, Ukrainians had developed sophisticated strategies and techniques for living with the economic and political turbulence the country has nearly always faced. Without recourse to governmental institutions, Ukrainians have relied on self-organized social networks to combat problems together. The future of Ukrainian documentary film will be no exception to this tendency.
---
Olena Lysenko is a documentary filmmaker, producer, fixer and freelance journalist from Ukraine. This year, she is also a visiting practitioner with the Center for Media at Risk at the Annenberg School for Communication. Just this year, her short film, I Never Had Dreams of My Son, received the Special Jury Recognition Award for Best Documentary Short at the 2022 New Orleans Film Festival. In 2016, she received her PhD in Law from Taras Shevchenko National University of Kyiv.