This information security project is aimed at educating media makers on ways to improve their digital security to better protect themselves, their sources and their journalistic role from actors intent on disruption, compromise and harassment.
Written by Steering Committee Member Jennifer R. Henrichsen; infographic created by Emma Fleming, Annenberg's Digital Designer.
---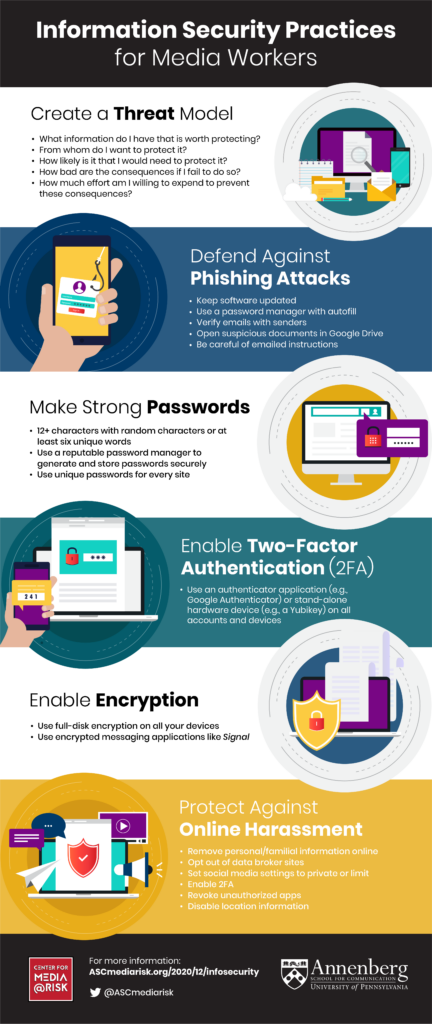 Media makers in all of their capacities, from documentary filmmakers and entertainment screenwriters to ordinary citizens, are at risk in a society in which their information, communications and identities can be surveilled, exposed and attacked. Journalists in their public-facing role of holding power to account are in many ways the canary in the coal mine for such issues. And the coal mine is becoming increasingly dark and stifled in contemporary U.S. society. Journalists are facing unprecedented rhetorical attacks from politicians and their supporters, which contribute to an environment in which physical assaults and digital harassment are considered normal and even encouraged. In 2020, nearly 300 journalists in the US were assaulted and at least 110 journalists were arrested or criminally charged in relation to their reporting. Leak investigations are increasing in frequency and severity, leading to significant consequences for journalists, their sources and the media's role as watchdog. Meanwhile, trust in the media is at record lows, while labor precarity is at an all-time high.
A starting point for reclaiming some semblance of autonomy and power can be found through the appropriate utilization of digital technologies to better secure one's digital life. This infographic is a starting point aimed at the everyday media maker who is looking for guidance on ways to improve their abilities to protect their information and themselves. It begins with advice on how to create a threat model for one's particular context before transitioning to how to defend against phishing attacks—which remain one of the most common and frequent forms of compromise for the everyday digital user in part because these attacks trick the brain into making bad decisions. Developing strong and unique passwords remains an ongoing issue while two-factor authentication is increasing in sophistication to better help users protect their accounts and devices. Encrypting one's information both in transit and at rest can help protect it from prying eyes. Finally, online harassment is one of the most frequent forms of abuse that media makers experience, with 90% of U.S. journalists describing it as one of the biggest threats facing journalists today; evidence that specific steps are needed to help mitigate its effects.
The guidance informing the infographic is drawn from experts at nonprofit organizations who focus on journalism and security. More information about how to improve the security of your digital life can be found below:
Resources for more information:
Article References
---
Jennifer R. Henrichsen, Steering Committee Member of the Center for Media at Risk, is a Ph.D Candidate at the Annenberg School for Communication at the University of Pennsylvania and a Visiting Fellow at the Information Society Project at Yale Law School. She examines how adversaries exploit weaknesses in the spread of information across organizations and institutions to contaminate the information ecosystem and to erode trust in knowledge systems. Specifically, she assesses how these and other challenges – from state and corporate surveillance to physical and digital attacks against the media – are creating an epistemic crisis for journalism. Her dissertation research examines journalistic intransigence to change – primarily through information security technologies – and what that means for journalism and its role in democracy.