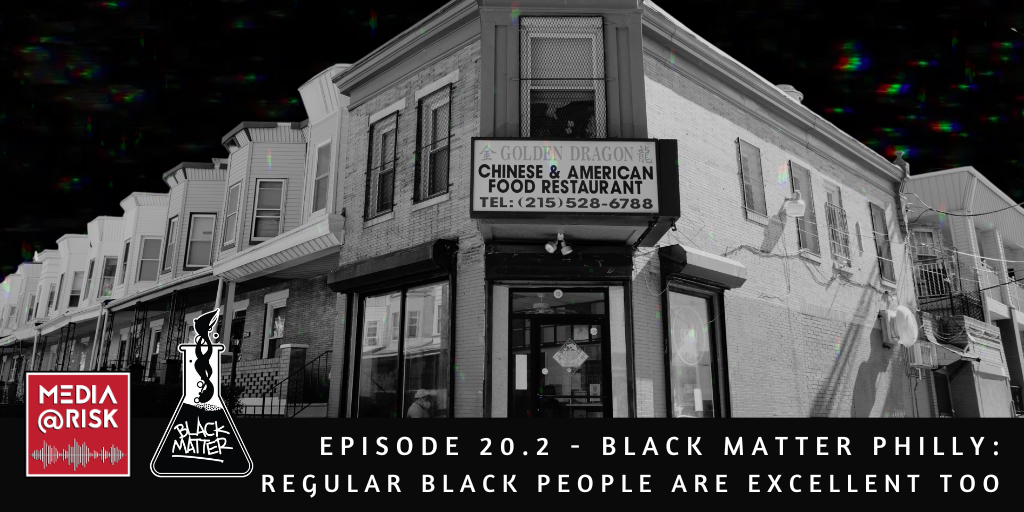 Welcome to Black Matter, the podcast using media-making to center and celebrate Black joy. Host and creator Chaz Barracks is a postdoctoral fellow for the Center for Media at Risk whose research focuses on Black joy, how to find it and the way Black people talk about it.
This is the second in a three-part series that unpacks Black joy from the point of view of local artists and scholars in Philadelphia, a city known for its vibrant music, performance and arts scene. Through the course of the series, Dr. Chaz invites you to take a moment to reflect on joy embodied through the spaces and stories of Philadelphia.
In this episode, Dr. Chaz sat down with @GoldenDragonPhilly co-owner, Chellie Faroul for a full meal and critical kiki about everything from meals to neighborhood development.
CREDITS
Chaz Antoine Barracks, Ph.D., (Media, Art, Text, Virginia Commonwealth Uni) is a Blackademic, artist-scholar, podcaster, filmmaker and postdoctoral fellow at the Center for Media at Risk. His scholarly practice is grounded in interdisciplinary studies that pull together performance research, Black Studies, rhetoric and communications, film and digital humanities. After completing his doctorate in 2020, he wrote and directed the Everyday Black Matter film project, which launched from his emerging media hustle Black Matter Productions, LLC. Chaz hosts the Black Matter podcast, which is a social platform for and by Black/PoC queers and femmes that serves as a curatorial space for museum exhibitions, live performance and archiving of alternative forms of making and producing knowledge. Find Chaz on Twitter @ChZ_PhD
Chellie Faroul
FEEDBACK
We'd love to hear from you, especially if you have stories about this podcast, our Center and anything in between. Feel free to write a note or record a voice memo on your smartphone and email it to media.risk@asc.upenn.edu; you can also find us on Twitter and Facebook at @ASCMediaRisk. Though we're a small operation, we're always open to pitches and new stories.
Disclaimer: The views and opinions expressed in this podcast are those of the speakers and do not necessarily reflect the views or positions of the Center for Media at Risk, the Annenberg School for Communication or the University of Pennsylvania.