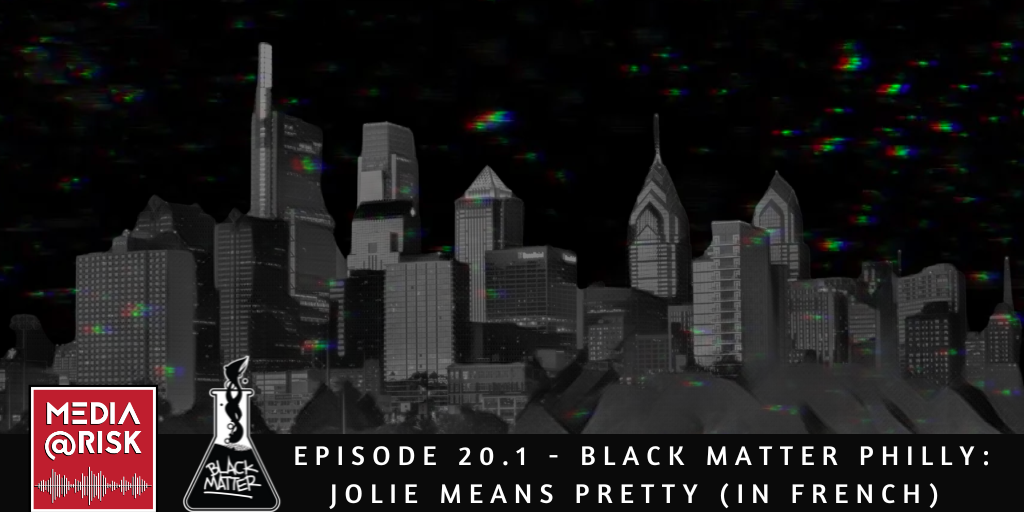 Welcome to Black Matter, the podcast using media-making to center and celebrate Black joy. Host and creator Chaz Barracks is a postdoctoral fellow for the Center for Media at Risk whose research focuses on Black joy, how to find it and the way Black people talk about it.
This is the first in a three-part series that unpacks Black joy from the point of view of local artists and scholars in Philadelphia, a city known for its vibrant music, performance and arts scene. Through the course of the series, Dr. Chaz invites you to take a moment to reflect on joy embodied through the spaces and stories of Philadelphia.
In this episode, actor Jolie Garrett joins Dr. Chaz at his kitchen table to discuss life in Philadelphia, the gentrification of queer spaces in the city and the linkage between the Black-queer dance floor and church.
CREDITS
Chaz Antoine Barracks, Ph.D., (Media, Art, Text, Virginia Commonwealth Uni) is a Blackademic, artist-scholar, podcaster, filmmaker and postdoctoral fellow at the Center for Media at Risk. His scholarly practice is grounded in interdisciplinary studies that pull together performance research, Black Studies, rhetoric and communications, film and digital humanities. After completing his doctorate in 2020, he wrote and directed the Everyday Black Matter film project, which launched from his emerging media hustle Black Matter Productions, LLC. Chaz hosts the Black Matter podcast, which is a social platform for and by Black/PoC queers and femmes that serves as a curatorial space for museum exhibitions, live performance and archiving of alternative forms of making and producing knowledge. Find Chaz on Twitter @ChZ_PhD
Jolie Garrett is an actor and performing artist based in Philadelphia. He is a graduate of the American Musical and Dramatic Academy in NYC. His theater credits include: Playing With Fire (Gene Frankel Theatre, Audelco Award Nomination), Othello (Shakespeare in Delaware Park, Buffalo–Katharine Cornell Award), Freedom Train (TheatreworksUSA), Kafka's The Trial (Phoenix Theatre Ensemble), The Cure at Troy (Blue Heron Arts Center), The Balcony, Lysistrata, Medea, Merchant of Venice, Night & Day, the American premiere of Barrie Keeffe's Sus, directed by Woodie King, Jr. (Jean Cocteau Repertory) and Julius Caesar Set in Africa (Nuyorican Poets Cafe). Regional Theatre: Much Ado About Nothing (Arkansas Rep), Macbeth, Julius Caesar, Richard II, and Romeo & Juliet (Shakespeare Theatre Company, Washington, D. C.), I Am A Man (Arena Stage). Film/TV: Independence Hall (History Channel), The Stockroom (Victor Cruz Entertainment) and Transition (Ducor Media Films).
This episode was produced and edited by Chaz Barracks.
MUSIC
sourced form freesound.org
Szegari, Jazz-piano-orechesta
Jolizna Lofi, Jazz organ loop-95
Migfus22, Jazz background music loop
Loose Threads by podcastAC
TRANSCRIPT
Coming soon
FEEDBACK
We'd love to hear from you, especially if you have stories about this podcast, our Center and anything in between. Feel free to write a note or record a voice memo on your smartphone and email it to media.risk@asc.upenn.edu; you can also find us on Twitter and Facebook at @ASCMediaRisk. Though we're a small operation, we're always open to pitches and new stories.
Disclaimer: The views and opinions expressed in this podcast are those of the speakers and do not necessarily reflect the views or positions of the Center for Media at Risk, the Annenberg School for Communication or the University of Pennsylvania.